DCS Mods
Find our useful and popular mods and apps here:
Mod Tools and Management:
Essential apps to easily activate/deactivate mods with a single click to DCS World:
OvGME – RECOMMENDED!
DCS World Mod Management Tool OvGME [GUIDE/DOWNLOAD]

JSGME
DCS World Mod Management Tool JSGME [GUIDE]
DCS World Mod Management Tool JSGME [DOWNLOAD]

________________________
Kneeboard Mods:
TTI Server – Persian Gulf Custom In-Game Kneeboard (as a PDF, great for tablets/mobile!):
[DOWNLOAD/VIEW PDF]
Recoil's Navaids – Persian Gulf v1.2:
Adds TACAN, VORTAC and VORDME frequencies for the PG Map. Works in singleplayer or multiplayer and does not break integrity check.

Frequency list is included in the README and is also available in your kneeboard at anytime when you play on TTI servers.
[DOWNLOAD]
TTI Caucasus – AJS-37 Advanced Warfare Kneeboard + TTI Kneeboard Pages (Coordinates/Chat commands/Mission Intel)
If you wish to have a working kneeboard with the custom TTI pages, you MUST use this mod or else you won't be able to view our custom kneeboard with vital mission intel.
[DOWNLOAD]

________________________
Sound Mods:
deadlyfishes' DCS SFX Overhaul Collection v2j
Install via JSGME/OvGME (recommended) or drop in your DCS root folder if you do not use mod loaders.
This sound mod replaces many aircraft engine sounds, ambiences, weapon sounds, explosions and more.
Most of the sound replacements are from Moltar's Mod, check here for a detailed list:
https://www.reddit.com/r/hoggit/comments/7b65xc/moltars_mods_v112_157_and_21/
Some mods have been added from other sources and edited by deadlyfishes:
A-10C Real Sound, GAU-8
Harrier Real Sound
Flanker Interior Cockpit Sounds
RWR Expansion/Edits
M-2000C Cockpit Sounds
M-2000C Interior Engine Sounds
_______________________
Aircraft Skin Mods:
deadlyfishes' Unlocked Liveries v1i (JSGME/OvGME COMPATIBLE) – Last Updated July 27, 2018


Unlocks liveries in-game and in-editor that you usually don't see because liveries are directly locked to the country you choose.
Works both in Singleplayer and Multiplayer (Does not break integrity check and other players can see your livery!)
So far, most or all liveries in this mod unlock them for the following aircraft:
F/A-18C, F-15C, Su-33, Su-27, Su-25, MiG-29S, F-5E, SA342, A-10A/C, M-2000C, P-51D, Spitfire, J-11A, Ka-50
____________________
deadlyfishes' 107th JAS Navy – Public Hornet Skins
These are some of our awesome custom skins made for the 107th Joint Aviation Squadron (Fictional DCS Virtual Squadron)
I've decided to make some of these line variants and the anniversary skin public to celebrate our squadron's 1 year anniversary as long as the long-awaited release of the F/A-18C Hornet.
You'll be able to rock these skins in our public servers and all of our members will be able to see your skin.
You'll find these variants:
1 Year Anniversary
Line (107th JAS Dark Grey)
Line (USN Grey)
_______________________
deadlyfishes' 107th JAS Navy – Shark Flight Digital Blue Camo
________________________
Multiplayer Server Mods:
Alternate Multiplayer Chat Color Mod Pack – Choose between GREEN, PURPLE, PINK, or RED color for multiplayer chat for BLUEFOR side. See images below: (JSGME Compatible)
________________________
Carrier Ops Mods:
JRSRAMBA's LARGE CVN-74 BALL LIGHT MOD: Does not break integrity check.
[DOWNLOAD] (JSGME/OvGME COMPATIBLE)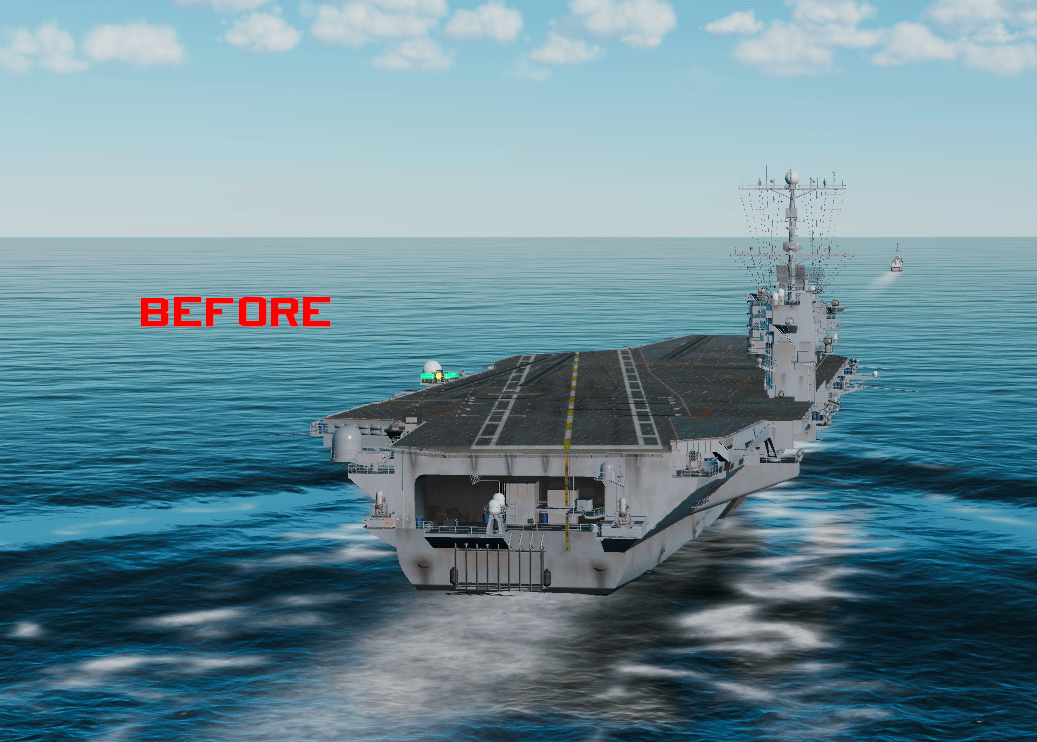 ____
VFA-113 Stringers CVN-74 John C Stennis Re-paint Mod:
[VFA-113 Stingers Website]
[download]
________________________
English and Modded Cockpits:
[download] (JSGME/OvGME COMPATIBLE) (From Moltar's Mod Pack)
Adds MANY cockpit mods, some for looks and some convert cockpits into English.
You'll have to apply these cockpits in your options once you install this mod:

________________________
Recoil's 107th JAS AI Skinpack
[download]
You may have seen screenshots of our 107th JAS skins on our TTI Discord Channel.
The AI skins for our service and EWR AI aircraft available for public release.
This new pack includes the skins for the AI planes flying around TTI, more specifically:
– C-130 (107th JAS)
– E-3A (AWACS)
– Il-78M (107th JAS)
– KC-130 (107th JAS)
– KC-135 (107th JAS)
This will enable you to see the Skins on said AI planes, but you won't be able to see 107th skins on planes controlled by 107th members (player-controlled a/c).
Please note that I do not approve of any alteration or redistribution of the provided skins.
The download method uses the GNU program Wget. It accesses my ftp server on which the files are stored, checks the file dates and then updates the outdated files.
For the first installation, you will have to download the whole package, but for any upcoming updates only the outdated files.
Installation and usage are outlined in the provided readme.txt
Feel free to ask any questions via @recoil in our discord channel that might be unanswered. If the answer to the question is included in the readme.txt, you will still receive an answer but will be publicly shamed.
________________________
Moltar's Mods: Lots of cool stuff, don't skip these!
Download:
https://www.splashonegaming.com/mods/
Description of mod sources and details:
https://www.reddit.com/r/hoggit/comments/7b65xc/moltars_mods_v112_157_and_21/
________________________
Completely remove useless clutter
Download this file and extract it to your DCS Saved Games/Config Folder:
Remove Clutter Config File (Will not mess with your options.lua file)
Alternatively you can edit the file yourself here:
Setting clutter in-game to 0, doesn't completely remove them. Doing this will gain some FPS.
Go here:
C:\Users\[YOUR USERNAME]\Saved Games\DCS.openbeta\Config\options.lua
Change these settings to -150000
["clutterMaxDistance"] = -150000,
________________________
Game/Utility Mods:
Ace Combat Infinity FC3 Theme by deadlyfishes (With music)

________________________
A-10c Mods:
Recoil's AN/ALR-69 RWR – [download]
Adds more aircraft/airframe/threat sybology to the A10-C RWR interface.


Recoil's IFFCC AAS Combat – https://goo.gl/C4qeMo