SRS Radio Setup
Updated: 23 Nov 2019
Download SRS and guide:
DOWNLOAD THE LATEST SRS—> https://github.com/ciribob/DCS-SimpleRadioStandalone/releases
__________
DOWNLOAD .NET FRAMEWORK (IF YOU DO NOT HAVE IT INSTALLED. If you're not sure if you have it or not try to install it again.)
RESTART YOUR COMPUTER IF YOU DECIDE TO INSTALL .NET FRAMEWORK
__________
RUN THE INSTALLER
__________
MAKE SURE YOUR SAVED GAMES LOCATION FOR DCS IS CORRECT. It's all automatic and should default to the correct location. Click on "Install/Update SRS"
__________
ONCE EVERYTHING IS INSTALLED, ENSURE YOU HAVE THE FOLLOWING SETTINGS: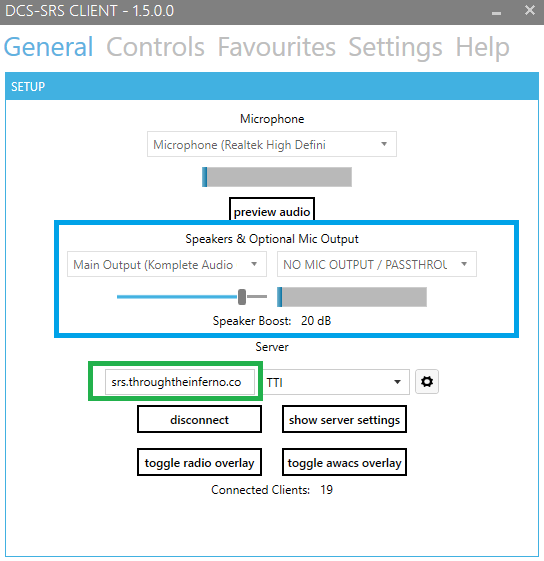 Audio Inputs/Outputs are set correctly.
Connect to the correct server IP for Through The Inferno Servers.


__________
SET UP YOUR PUSH TO TALK KEYBINDS
Ensure that "RADIO SWITCH WORKS AS PTT" is enabled under settings.
Go to the CONTROLS TAB

Common PTT is a push to talk that will transmit over any SELECTED radio channel in the overlay.
Radio 1, 2, 3, etc… is a push to talk that will transmit over those specific radio channels without having to switch the channels manually.
I recommend setting a PTT for the separate radios than to use a Common PTT.
__________
PRO TIP:
The same buttons you use for Push to talk in SRS, set those same buttons as PUSH TO MUTE in discord, so you can be in discord voice and SRS without transmitting over two apps:
__________
You should also use the IN-GAME OVERLAY within DCS by pressing CTRL+SHIFT+ESC:
__________
This indicates that you have your first Radio SELECTED but you are not transmitting over it.

The YELLOW dot means that radio is not currently active.
You have to switch to it by clicking on it or by set keybind to switch to it. This is why it's better to have PTT set to each radio individually.
__________
This indicates that you are TRANSMITTING over 251 Mhz AM

You can click the GREY BOXES on top and bottom of the channel to change the channel frequencies in FC3 aircraft.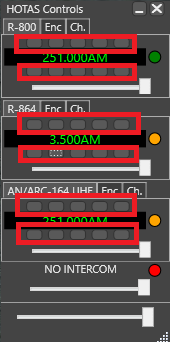 __________
For fully clickable aircraft, the frequencies must be changed inside your cockpit in-game: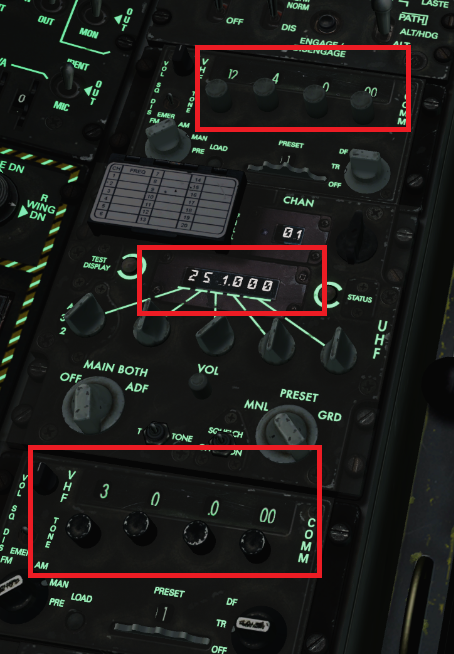 __________
Connect to the IP address for the Through The Inferno server you are on:
NorCal: norcal.throughtheinferno.com
SoCal-1: socal.throughtheinferno.com:5002
SoCal-2: socal.throughtheinferno.com:5004
See mission briefings in server and on the website for appropriate frequencies for 1.5 and 2.1.
PLEASE TURN YOUR MICROPHONE BOOST TO AT LEAST -70%
ASK PEOPLE ON THE RADIO HOW YOUR MIC BOOST SOUNDS, AND ADJUST ACCORDINGLY.
---
If you are still having a hard time installing SRS, ask on our discord or watch the following video by the author himself:
---
BUG: Clicking on Toggle Radio or AWACS Overlay doesn't bring up a pop-up window.
This is a problem for those with dual monitors.
What you need to do is:
Click on the overlay you want to see
Hover your mouse over the SRS icon in your taskbar.
Notice that there are two possible windows, one is the CLIENT and the other is kind of a BLANK window.
Hover your mouse over the BLANK window and RIGHT CLICK and then select MAXIMIZE.
BOOM. Problem solved.
If there's still an issue it's beyond me and the developer for now.