DCS World Single-Player/Co-op Dynamic Missions and Campaigns
Updated: 15 Jul 2018
WHY PLAY TTI AND HOW IT WORKS:
CHOOSE FROM THE WIDE VARIETY OF MODERN AIRCRAFT
CHOOSE ANY MISSION TYPE TO BE GENERATED.
– These missions can generate a WIDE VARIETY of mission scenarios.
– Ground missions are generated in a random location on the map, with a random pool of units, and placed in different positions within the mission zone. Each ground mission generation will be completely different every time one is generated.
– There are many potential areas for ground missions that utilize the majority of the map, you'll be able to explore many areas of the map for a wide variety of terrain challenges and experiences.
– Air missions will generate a random flight of enemy bandits. The airframe, of the bandits will be random. Their initial spawn point will be random. Their altitude, waypoints and waypoint altitude will be randomized every time as well. A simple yet very comprehensive dynamic A2A mission generator makes for an amazing and unpredictable A2A experience! Choose from a variety of A2A difficulties as well.
You can switch (pause, choose slot) to change aircraft at ANY TIME without having to quit the mission to reload a new one!You'll never need to create your own scenarios (too predictable) again!
Amazing Auto-lasing JTACs will designate targets for you without any interaction menu fumbling (no 9-line, readback, buggy comms) Other scripts include CTLD (helo menu for crates/building/sling loading) and an AWACs reporter to help you locate bandits.
The mission is ENDLESS. Repeat or do new missions as long as you'd like.
FEATURES:
Wide variety of aircraft to choose from
"Never the same experience" for every type of mission.
Ground and Sea Mission generate enemy units dynamically, at random positions within an AO, and their unit composition will be random as well.
Air to air missions will generate random enemy aircraft types, and they will spawn at a random position, and will have random tasks/waypoints of their own each time an air to air mission is generated!
Do things on your own time. Want to fly around a bit before you start? Sure, accept and start missions on your command.
Several types of missions to choose from
Do several missions at once (multiplayer recommended) for a larger-scale operation
JTAC Autolase
Repeatable/endless missions that are never the same each time
Great for co-op
Great for beginners and veterans
MISSION SCENARIOS:
Air to Air – Spawns a dynamically created enemy element flight. Choose between different difficulties. NOTE: These missions can infinitely stack. It is advised to spawn one at a time, and only spawn new A2A missions when one is complete.
Air to Ground – The mission will dynamically generate ground targets in a random location. There are several difficulties to choose from:
HARD – SAMs may be present.
EASY (Multirole) – No SAMs will be present.
Helo – These missions will spawn closer to the home base.
Helo Infantry Assault – These missions are designed for dropping off troops and/or utilizing gunship helos.
Anti-Ship – This will spawn a group of enemy ships. (Not available on the NTTR map.)
Carrier Ops – Perform many Carrier-Ops Scenarios with carrier based aircraft. (Not available on NTTR map.)
DYNAMIC? HOW IS IT DYNAMIC? WHAT DOES THAT MEAN?:
There are NO static/pre-placed/pre-determined units on the mission. Every enemy unit in the map is generated and randomized, making for a highly unpredictable gameplay experience.
(Just a reminder, you get to choose what missions are generated and how many, it's all up to you!)
Ground mission zones are placed in random location on the map every time a ground mission is generated
The units inside the random ground mission zone are randomized from a list of units. The unit composition inside these zones WILL NEVER BE THE SAME EVERYTIME
The placement of the units inside the random ground mission zone will be randomized as well, they will never be the same unit, in the same place everytime.
Air to air missions will choose a random aircraft group (depending on the difficulty you choose, easy a2a will favor spawning easier a2a planes)
Air to air missions will randomize a bandit group's initial spawn, initial altitude spawn, waypoints, waypoint altitudes
____________________________________
OTHER FEATURES:
JTAC Autolase
JTACs AUTOMATICALLY lase/smoke targets.
No need to communicate with JTAC.
Use "JTAC Status" in your F10 – Other Menu for more JTAC details on marked targets.
JTACs will prioritize SAMs and AAA when designating units in a large group.
____________________________________
CTLD – Complete Troops and Logistics Deployment Script for Helos
Build AAA Defenses.
Transport Tanks, Humvees and more.Pickup troops and drop them off into battle.
More details here:
https://github.com/ciribob/DCS-CTLD
____________________________________
EWRS – Early Warning Radar Script

An AWACS script that gives you auto-text reports of enemy bandit locations.
You can request bogey dope, picture, friendly picture, and you can enable/disable auto-reports as you like.
Units of measurements can also be configured. This is a great and reliable alternative to the in-game AI AWACS calls over the radio.
____________________________________
More info can be found on the ED Forum Support Threads linked on the mission files.
Please note: These are mostly DYNAMIC SINGLEPLAYER/CO-OP MISSION. As of now, we have a campaign where progress is persisted and is on-going, but for now a dynamic single-scenario like this will most definitely fill the void of a large scale dynamic campaign as ED/DCS lacks proper resources for developers and designers to create a proper dynamic campaign without too many workarounds.
____________________________________
Single-Player/Co-op Dynamic Missions and Campaigns made by deadlyfishes:
Through The Inferno (Georgian Coast Region) (Caucasus Map)
[ED User File Download and Info Page]
[ED Forum Information Support Thread]
_____________________________________________________________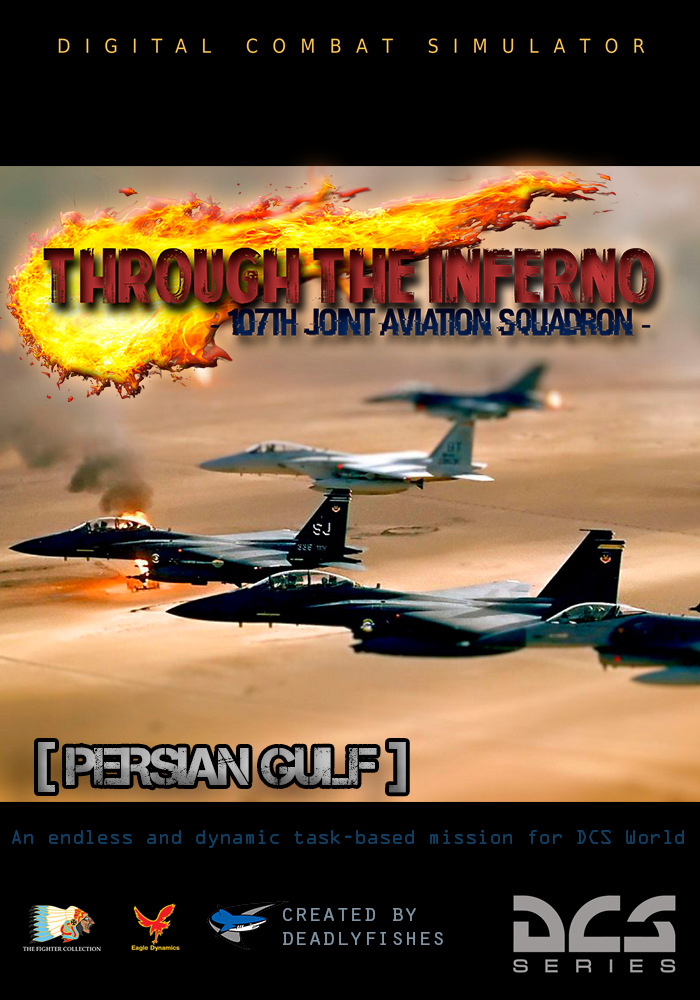 Through The Inferno (Persian Gulf) (Persian Gulf Map)
[ED User File Download and Info Page]
[ED Forum Support Thread]
_____________________________________________________________

Through The Inferno (NTTR – Las Vegas) (NTTR Map)
[ED User File Download and Info Page]
[ED Forum Support Thread]
_____________________________________________________________

Through The Inferno (Normandy 1944) (Normandy Map)
[ED User File Download and Info Page]
[ED Forum Support Thread]
_____________________________________________________________

Through The Inferno (Normandy 1984) (Modern Aircraft)
[ED User File Download and Info Page]
[ED Forum Support Thread]